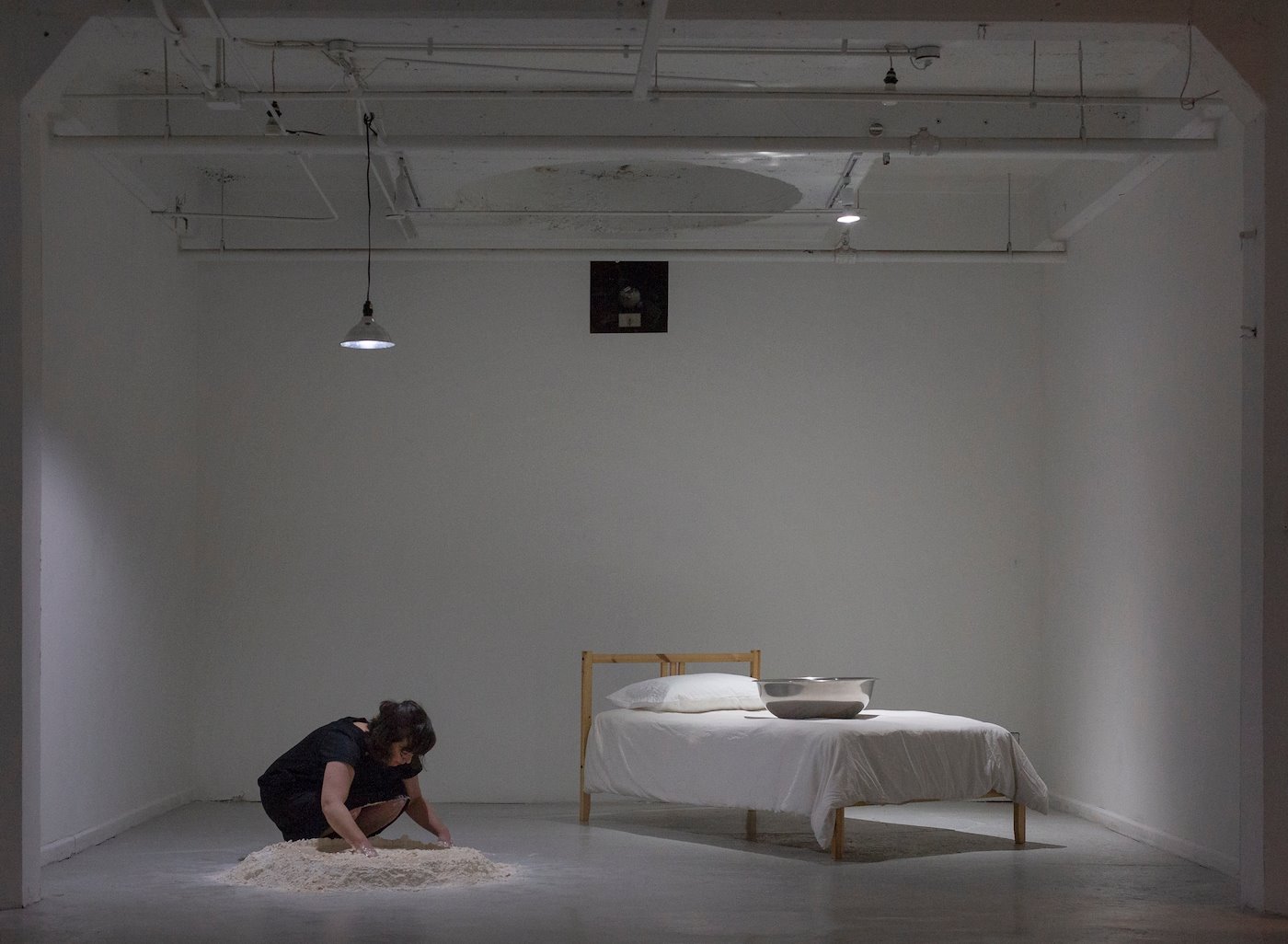 SUN, 16 JUN AT 19:00
Bubbly Creek Performance Art Assembly
1029 W. 35th St.
Chicago, Illinois
www.defibrillator.org
A Festival Celebrating the Bridgeport Neighborhood
June 13-16 | 2019
Curated by Angeliki Tsoli
Featuring Live Art by
Santina Amato | Jessica Elaine Blinkhorn | Óscar González-Díaz | Carlos Salazar Lermont | Giulia Mattera | Smeza+Keegan | Diana Soria | Nicolina Stylianou | ieke Trinks
In her performance titled Seedbed, Amato combines two childhood memories – one of her mother using her body to make bread dough, the other, her mother dyeing her clothes black on news that her father had passed away in Italy. As a child, Amato's mother would use her whole body to knead dough on the kitchen table to feed the family. When it was ready, she would put it in a bowl, lead Amato and her siblings into Amato's bedroom to place the bowl on her bed, covering it with her bed blankets. She would then lead Amato and her siblings out of the room, shutting the bedroom door behind them whispering, "keep quiet as the dough is sleeping". The other memory is watching her mother boil up a big pot on the kitchen stove when she received news that her father had passed away in Italy. She proceeded to put her clothes into the pot, one by one, to dye them black to wear over the coming year as a sign of mourning her father's death; black being the colour of mourning in the Italian culture and the only time that it is (was) seen appropriate to wear this colour.
Amato will be creating 40lbs of bread dough (the approximate weight she would have been when witnessing her mother dye her clothes as a sign of mourning) to place into a bowl that sits on a single bed. Wearing a black Labour and Birthing Hospital Gown bought off Etsy, Amato will leave the dough to "sleep" while it continues the performance without the body present.
Seedbed references Vito Acconci's 1972 performance of the same name, subverting, while reclaiming, the uterus as the ultimate seedbed. Performance starts at 7pm sharp on June 16th but as it will be durational, the performance will continue throughout the whole nights programming.