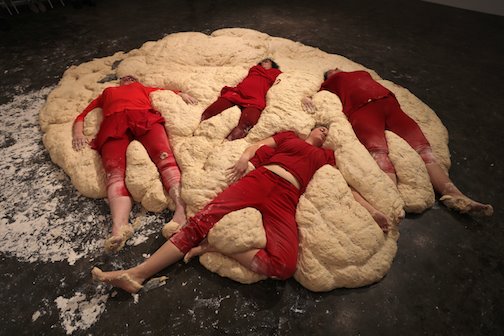 Dis-rupted: A Performance Santina Amato
4-8pm, December 4th, 2018
Crosstown Arts' 430 Gallery
430 N. Cleveland,
Memphis, TN
Contact: info@santinaamato.com
Dis-rupted is a durational performance that focuses on the materiality of bread dough and women's bodies in a designated space (430 Crosstown). This will be the largest project Amato has attempted with bread dough; inviting twelve female identifying women to create 900 lbs of dough in a public performance setting held on December 4th between 4-8pm. The (anti)climax of the event sees the performers lay, stand or sit in the dough as it rises around them, consuming their bodies. This work is a continuation of Amato's investigations into the materiality of dough and her focus on the notion of the intimate body, especially the female body.
Performers:
Santina Amato
Caitlin Hassinger
Ashli Aaron
Megan Travis-Carr
Bianca Phillips
Mary Jo Karimnia
Lily Anderson
Julianna Johnston
Erica Vanhaute
Elizabeth Elder
Madelyn Altman
Asayah Young